Penn State at Ohio State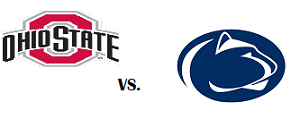 Ohio is ranked #5 and Penn State is ranked #12 at press time. Ohio is undefeated and in the hunt for the College Football Championship but they need to beat The Nittany Lions to continue their path to the CFP. This will another test against a ranked team – a Big Ten East inter-conference showdown. Anyone who doesn't consider this to be one of College Football's biggest rivalries hasn't been to one of their games!
This year's contest is being played at Ohio Stadium in Columbus, Ohio.
"A Big Ten showdown"