Golden Tickets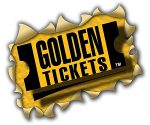 "Providing hard to get and last minute tickets to events nationwide."
Ticket Information:
Company Info:
Golden Tickets is a ticket broker and ticket resale company based out of Plano Texas. They have been in business for over 30 years and have an excellent reputation for providing hard to get and last minute tickets to events nationwide.
Contact Info:
Golden Tickets
800-288-2461
Address:
Golden Tickets
301 W. Parker Rd., Suite 202
Plano, TX 75023
*This listing includes affiliate links and VIP Hospitality may be compensated if you make a purchase after clicking one of these links.