The 150th season of college football is heading into week 6 and the race to the College Football Championship is at the first turn!  Yes, it has been 150 years since Rutgers, then known as The College of New Jersey took on Princeton in New Brunswick, NJ in a game that somewhat resembled modern day American Football.  Rutgers won that game 6-4, and they haven't won since.  Okay, that's a lie and an exaggeration, but let's just say they aren't in the hunt for the National Championship this year. Princeton, on the other hand doesn't compete in the FBS Division, but they did win The Ivy League Championship last year.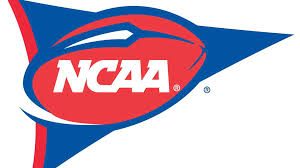 We will talk more about this historic anniversary later, for now, let's take a look at a few teams that are winning and some games that may be instrumental in determining who plays for the championship.
Alabama stands at #1 in both the AP Top 25 and the Coaches Poll, followed by Clemson and Georgia.  At number 4 the polls begin to differ slightly with Ohio, LSU and Oklahoma following in both the AP Poll and Coaches Poll in a slightly different order. Suffice it to say they agree on who belongs in the top 6, and in fact, the same top 10 teams populate both polls with Auburn, Wisconsin, Florida and Notre Dame rounding out the list.
Not a lot of surprises when you consider that Clemson and Alabama have split the last four national championships with Georgia the runner-up in 2017.  LSU, Ohio and Oklahoma are no slouches and have all finished the last few seasons strong with 10-3 (ranked 6th), 13-1 (ranked 3rd), 12-2 (ranked 4th) records respectively.  Georgia was 11-3 and ranked 7th!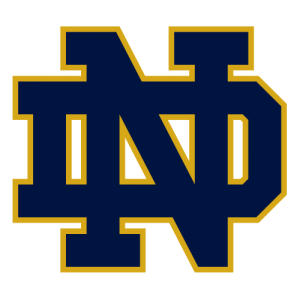 Clemson, in my opinion, has the weakest schedule and plays no ranked opponents for the remainder of their regular season games.  In fact, they won by only 1 point against unranked North Carolina last week and came within a 2-point conversion of losing.  Still, they are expected to win out but  any loss will likely knock them out of the top five. They also play in the ACC,  not the strongest of the power 5 conferences, so even their championship game is not a huge determining factor – unless they lose!  Yet, they are the defending national champions and have proven their strength and resiliency by winning the national championship in 2 of the last 3 years.  Do not take them lightly – I just don't see any upcoming games that are a must see.  But if you are a Clemson fan – book your trip to the ACC Championship on December 7th in Charlotte.
Alabama on the other hand plays three ranked opponents before they can reach the SEC Championship.  They play #23 Texas A&M on October 12th, followed by #5 LSU on November 9th and #7 Auburn in the Iron Bowl at Auburn on Rivalry Saturday, November 30th.  Should both teams win out,  Alabama will stay ahead of Clemson on strength of schedule – but no matter, they would surely meet in one of the semi-finals or the final to hash it  out
LSU also has three ranked teams to defeat in the regular season, not counting having already defeated #9 Texas in Texas. They play #7 Auburn on October 26th,  #1 Alabama on November 9th and # 23 Texas A&M on the 30th. Georgia, like LSU, has already beat a ranked opponent in #9 Notre Dame.  They face #10 Florida on November 2nd, #7 Auburn on November 16th and #25 Texas A&M on November 23rd. Ohio, while having beaten no ranked teams this season, faces four of them before possibly battling another in the Big Ten Championship.  They play #25  Michigan State on October 5th, #8 Wisconsin on October 26th, #12 Penn State on November 23rd and finally #19 Michigan in The Game!   With the exception of Michigan, all their games against ranked opponents are home.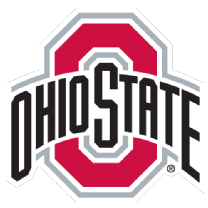 That rounds out the top five's schedules – but that doesn't mean any of them can't be beat by an unranked opponent while you are not looking!  That's the beauty of College Football. The twists, the turns, the wins and the losses.  The College Football Playoff may not be a perfect system, but the introduction of opinion, arguable rankings and other factors makes it exciting to the finish.  I rue the day when it is replaced by a standard playoff system that takes away all the drama and suspense of the present day system. With all that said – here is my prediction for the turning point games that you won't want to miss.  Many of them are traditional rivalries that go back over 100 years, while others are new rivalries created through our imperfect system.  In all of them I looked at the top ten teams versus ranked opponents with the greatest potential for upset – followed by the schedule and location of the power 5 conference championships.  As for the 150th anniversary of college football – we owe a huge debt to Rutgers and Princeton and that first game played on November 6th, 1869.  Here's to you Rutgers and Princeton – one team still competing at the top of their conference and another trying really hard!
2019 College Football Games of Note!
October 5th, 2019
October 12th, 2019
Texas at Oklahoma, The Red River Showdown
October 26th
November 2
Florida at Georgia November 9
LSU at Alabama November 23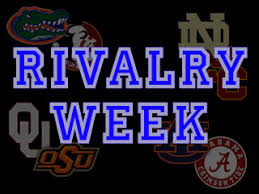 Rivalry Weekend, November 30
Alabama at Auburn, The Iron Bowl
Michigan at Ohio, The Game
Stanford at Notre Dame, The Legends Trophy
Clemson at South Carolina, The Palmetto Bowl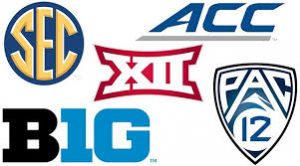 Championship Weekend, December 6th and 7th
Pac-12 Championship Game – North Champ vs. South Champ, Levi's Stadium, Santa Clara, CA
The ACC Championship — Atlantic Champ vs. Coastal Champ, Bank  of America Stadium, Charlotte, NC
The Big Ten Championship — East Champ vs. West Champ, Lucas Oil Stadium, Indianapolis, IN
The Big 12 Championship – No. 1 seed vs. No. 2 seed, AT&T Stadium, Arlington, TX
The SEC Championship — East Champ vs. West Champ, Mercedes-Benz Stadium, Atlanta, GA
Semi-Final Saturday, December 28th
PlayStation Fiesta Bowl(CFP Semi-Final), State Farm Stadium, Glendale, AZ
Chick-Fil-A Peach Bowl(CFP Semi-Final), Mercedes-Benz Stadium, Atlanta, GA
January 20, 2020 CFP National Championship, Mercedes-Benz Superdome, New Orleans, LA   There you have it – the 150th college football season.  But don't forget the other Bowl Games – basically 38 games for the runner(s)-up!!  All full of their own Pomp and Circumstance and a part of what makes college football GREAT!
References:
College Football Information:
Information on 'The First College Football Game:'
Team Records:
VIP Hospitality uses affiliate marketing as part of its advertising business. Some of the links on this site may pay commissions to VIP Hospitality if you click on their link and buy a product.